UNEXPLAINED COLORS AND MARKINGS
Often we see a color, marking or pattern that can't really be explained, and we can only guess as to the genetic cause. Some patterns have a name but are not often seen in Morgans, like brindling and lacing. Typically since there have been no official studies on these "mystery" colors and markings, not much can be conclusively said about them. Each year brings new discoveries in the field of color research, so it may be that in the future, we'll know more about what is causing some of these "oddities". Enjoy browsing through this collection of intriguing color mysteries!

If you have a Morgan with an odd white marking, brindling, white streaking or other unexplained coloring, we'd love to add it to this page. Please email pictures to Laura Behning.


POSSIBLE NEW DILUTION FOUND IN MORGANS
In 2001, a filly named TL Champagne Sensation was brought to my attention by her owner, Pat Hardy of Abee, Alberta. I edit the Rainbow Morgan Horse Association newsletter, and Pat sent me pictures of Sensation for our annual Color-Foal Pictorial. Sensation appeared palomino, but had bright blue eyes (not the blue-ish eyes some single cream dilutes have) and pinkish skin. At first, some thought she might be champagne. But champagne does not exist in Morgans. Her sire was originally thought to be a palomino stallion (her dam is black); was Sensation some type of unusual palomino? The mystery deepened when DNA testing, as part of the registration process required of all Morgans, subsequently discovered that the palomino stallion was not, in fact, the sire of Sensation. Instead, she had a bay sire! NEITHER of her parents are visible dilutes!

When the test for champagne came out, Sensation was tested and found to be negative. She has also tested negative for silver, pearl and cream. What this means is whatever is causing this odd coloring, it is a dilution not only not known in Morgans, but one NOT YET IDENTIFIED IN ANY BREED. It is something entirely new; possibly a recent mutation.

One might think this one mare was an isolated anomaly, but there have since been two others of this strange dilution produced! They are all from the same family of Morgans and were produced when the lines of Mehlwood Marybelle (Merry Bellmarch x Mary Todd), f. 1971, a chestnut mare from two chestnut parents, were doubled up in the pedigree. This would seem to imply a recessive type of inheritance, and one where the heterozygotes show no effects of the dilution at all. In this respect it is like the Pearl dilution.

Phenotypically, these horses somewhat resemble silvers, in that black hair on their bodies is diluted to a pale chocolate color. The manes and tails are light. Skin color is pinkish at birth, darkening later, though still retaining a bit of a pink/purple cast around the genitalia. Eyes are bright blue at birth changing to a very unusual pale greenish-gold. It is difficult to tell more about the effects of this dilution because there are so few of them- just 3 individuals at this writing, two bay based and one chestnut based.

I've given these horses their own section on this page, and thought the best way to present the information was to do a photo pedigree for each, with as many photos as I have for the ancestors of each horse. A huge thank you goes to Pat Hardy and Jan Bourdon for their assistance with information and photos! Thanks also go to Lesli Kathman, who brought the 2 more recent horses from this dilution to my attention, and who has been a fabulous source of ideas and information. Hopefully as time goes on, more will be discovered about this fascinating color!

The first Morgan from this dilution is TL CHAMPAGNE SENSATION (Snowdancer's Merlin Morn, bay x Snowdancer's Ebony Lace, black), 2001 chestnut (with unknown dilution) mare, owned by Pat Hardy. The series of photos below show her color progression from foal to adulthood. The middle picture compares the eye color as a foal to her adult eye color.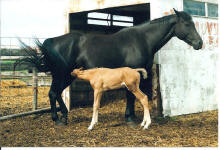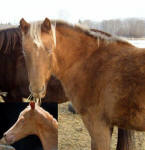 (click to enlarge any photo in the pedigree below)

TL Champagne Sensation
(ee Aa crcr chch zz chestnut with unknown dilution)

Click here for link to complete pedigree on AllBreed

Click here for CLRC registration

Snowdancer's Merlin Morn (bay)


JMF Beam's Enchanted Imp (brown)

Whispering High Beam (black)
(Beamington x Highover Desiree)
KW Brianna (bay)
(Sorento x Meadowpark Mirage)

Mehlwood Marybelle (chestnut)

Merry Bellmarch (chestnut)
(Bro-rock March On x Merry Bellsong)
Mary Todd (chestnut)
(Senator Graham x Flyette)

Snowdancer's Ebony Lace (black)

Tedwin Topic (bay)
(Fiddler's Contender x Waseeka Cajun Queen)
Seven C Circe (bay)
(Waseeka's Endeavor x Winnebago)

Mehlwood Marybelle (chestnut)


Merry Bellmarch (chestnut)
(Bro-rock March On x Merry Bellsong)
Students of Morgan pedigrees will notice that the horses behind Sensation are very famous and prolific Morgan horses. Why, then, has this dilution not shown up elsewhere? Unless two carriers were bred together, a recessive dilute could stay hidden indefinitely. Did no other breeding programs make the requisite cross, or were any that might have been produced simply not recognized as being "different" from their base colored relatives?

The next Morgan to be foaled from this interestingly colored family was the 2006 bay based stallion, Snowdancer's Champgndream. Champ's sire is a full brother to TL Champagne Sensation, and his dam also carries the cross to Mehlwood Marybelle. Champ resembles a bay silver, but with a very unusual, light eye color. He has tested negative for all known dilutions. Here are some pictures of Champ, from birth through adulthood.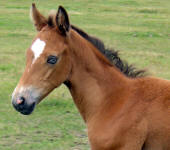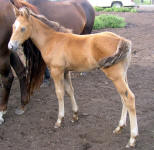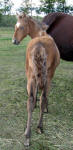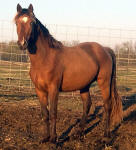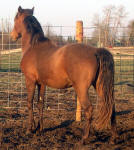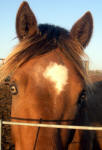 (click to enlarge any photo in the pedigree below)

Snowdancer's Champgndream
(Ee Aa bay with unknown dilution)

Link to complete pedigree on AllBreed

Link to CLRC registration


Snowdancer's Etherealebony (black)


Snowdancer's Merlin Morn (bay)


JMF Beam's Enchanted Imp (brown)


Mehlwood Marybelle (chestnut)


Snowdancer's Ebony Lace (black)


The Carolinian (black)


Mehlwood Marybelle (chestnut)

Whispering Showdown (bay)
(Waseeka's Showtime x Glamadonna)
Twyla OHara (black)
(King OHara x Lady Fanilyn)


Mehlwood Marybelle (chestnut)


Merry Bellmarch (chestnut)
(Bro-rock March On x Merry Bellsong)
The final horse in this trio of interesting Morgans is a son of the first two. Registered as TL SENSATION'S MONARCH, he was foaled in 2010. He is bay based like his sire and also like him, he resembles a bay silver in many ways, with the exception of eye color. He also had the characteristic pinky skin as a young foal, which darkened with age.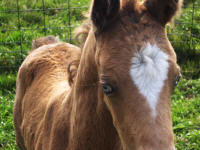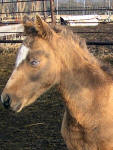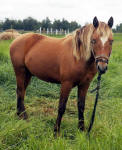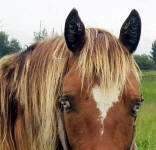 (click to enlarge any photo in the pedigree below)

TL Sensation's Monarch
(Ee Aa bay with unknown dilution)

Link to complete pedigree on AllBreed

Link to CLRC registration


Snowdancer's Merlin Morn (bay)



Snowdancer's Ebony Lace (black)

JMF Midwinter Night Dream (black)


Mehlwood Marybelle (chestnut)


JMF Beam's Enchanted Imp (brown)


Mehlwood Marybelle (chestnut)


Snowdancer's Ebony Lace (black)


The Carolinian (black)


Mehlwood Marybelle (chestnut)

If anyone has more information about other Morgans from this line that have produced "odd" colors, or other similarly colored Morgans from other bloodlines, I'd love to hear from you. Email Laura Behning. Thank you!
UNUSUAL MARKINGS ON MORGANS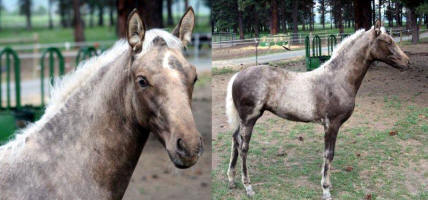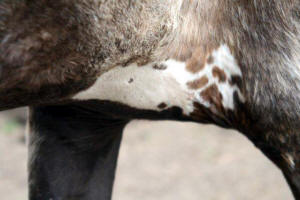 SNOWBOUND CROOK'S PROMISE (Fastrak Class Act x Fastrak Legally Blonde), 2011 palomino mare (pictured as a foal) filly owned by Snowbound Morgans. The spot behind her left elbow may be a birthmark; the absence of concurrent leg white as well as facial white (her only other white marking is a star) makes it less likely to be due to a pinto pattern.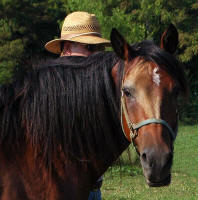 MYTHIC FREYJA (Mythic Aladdin x LS Elizabrass), 1998 bay mare owned by CeAnn Shipley, Mythic Morgans. CeAnn writes "Freyja was born with this tan patch on her face. The weird thing about it is that when she sheds it comes in black. Stays that way for about a week before it turns tan again. Her bay full brother also has a tan marking on his right shoulder. I keep meaning to get a photo of it. His tan mark seems to stay most of the time though it is harder to see on his thick winter coat."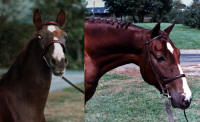 Another Morgan with a patch of lighter hair on his face is HURS DONOVAN (Paramounts Norseman x Topfield's Samantha), a 1983 chestnut gelding. A possible cause for these sorts of marks in a somatic mutation, which is basically an area of a horse carrying a slightly different genetic code than the rest of the horse.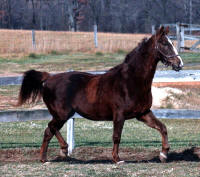 TOPFIELD'S SUNRISE (Topfield x West Lane Dawn), 1965 chestnut mare. Like the previous examples, Sunrise had an area of lighter chestnut hair, but on her side rather than her face. Photo courtesy of Mary Ann Schaefer.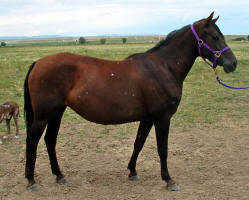 WINDRIDGE RIVERSONG (Drumsong's Smoky X Candon Gates Heir Supreme), chestnut mare foaled in 2007. As she matured, "River" acquired numerous small, round white spots all over her body. More keep appearing as time goes on. These are called "birdcatcher spots", but not much is known about what causes them; some speculate it may be some sort of allergy to insects. Birdcatcher spots may appear and then disappear over the horse's lifetime. Owned by Jennifer Murdock, Can Do Morgans.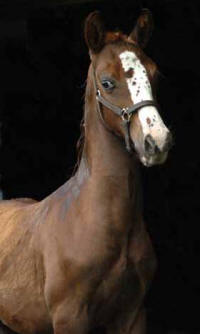 ANCAN SPLASH OF COLOR (Ancan True Colors x FCF Lady Victoria), 2005 chestnut gelding, pictured as a weanling. "Splash" shows spotting within his blaze, an interesting feature that may be related to ermine spots, which are spots on a leg marking. Photo courtesy of Anne Wyland.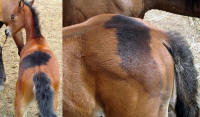 SABLE PAINTED LADY (JMF Dreamcatcher x Silver Sierra Dream Maker), 2005 bay mare, pictured as a suckling foal. The dark patch on her hip may be caused by what is known as a somatic mutation- an area on the horse that has a gene switched "off"- in this case, this bay filly's agouti gene would be inactive in the area of the black spot, allowing the unmodified black base coat to show. Another possibility is a run together Bend Or spot, which could form large patches if there are enough of them. Generally they are not isolated and the horse will have many smaller ones as well as the larger patch or patches. In some rare cases, horses with clearly defined areas of two different colors are what is known as a chimera- an organism that has two different sets of DNA. Owned by Angie Nadon. Photos courtesy of Sandy Berge.



SABLE MORNING STAR (raf) (Sable Knight Krusier x Sable Gypsy Beam), 2006 chestnut mare (pictured as a weanling in the first picture; second picture as a mature mare). Star was tested for the frame gene, the pattern thought to most likely fit her odd marking, and she was not carrying it. Her only other white marking is a small star. The spot on her flank was there from birth and is not due to an injury. Both of Star's parents are solid black. She is linebred Beamington, and odd white belly markings without concurrent leg or facial white, as well as round roaned markings, have been known to appear in Morgans from this bloodline. Owned by Angie Nadon. First photo courtesy of Sandy Berge; second courtesy of Angie Nadon.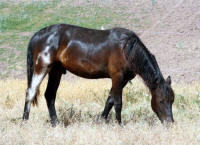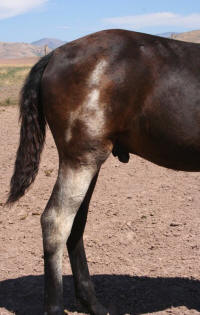 HANG N THE STREAKER (Season's Pure Country x Hang N Grace Under Fire), 2007 smoky black stallion, pictured as a yearling. No explanation can be found for the odd roaned marking on "Cash's" right leg. He has no other body white. Photos courtesy of Cash's breeder and owner Wendy Hanger.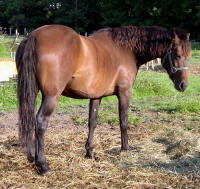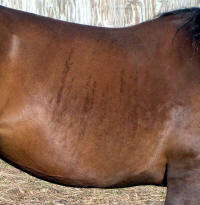 CADUCEUS URSULA (H-Ken X Caduceus Margaux) 200 bay mare. Ursula is, so far, the only known Morgan with a brindle pattern. In other breeds, some brindles have much more expression of the pattern, with the brindling extending over the entire body, which is really quite striking. Brindle is more often seen on bay and brown horses than other colors; it seems to require sooty for its expression, and reorganizes the sootiness into stripes. Most brindles have been shown to be chimeras, an organism with two different sets of DNA. These chimeric brindles do not reproduce the pattern when bred. Photos courtesy of Ursula's owner, Sherry Siebenaler.

In 2014 an inheritable brindle pattern, caused by a disease known as Incontinentia Pigmenti (IP), was discovered in a single family of horses (the study did not reveal their breed). IP is dominant and sex-linked, so all the living examples are female descendants of the disease's founder animal. Males die in utero. Affected horses have areas of hairlessness (which help create the brindle pattern) as well as hypopigmentation, with lesions in the skin. The complete study can be read here.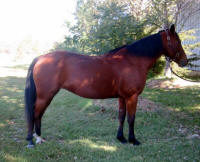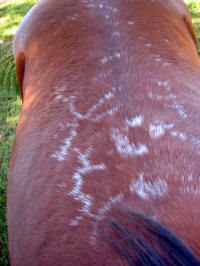 D'S SUGAR KANDI (Sweet's Classy Boy x D's Rhythm Kandi), 1992 bay mare. Kandi shows the pattern commonly called "lacing" on her back. Many causes for this pattern have been postulated; some horses show it from birth while others develop it later. The reticulated pattern resembles that of a giraffe's markings. This can be even more strongly expressed than it is in this mare. The Sweet's bloodlines that Kandi comes from are known splash producing lines, though this pattern is not known to be associated with splash. She has no facial markings at all and only one hind sock and one hind white heel for her other white markings. Photos courtesy of Cheryl Manahan.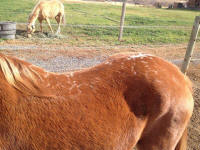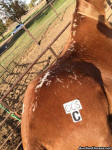 Lacing on REBA DAWN PARADE (Dia H Valiant x Reajeana Lady Parade), 1993 chestnut mare. Reba is a Forever Morgans rescue. If you are interested in adopting her, more information can be found on the Forever Morgans website.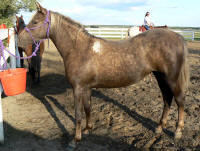 SHOW BIZ GOLD (CAN) (Baptiste Jay Cheyadow x Miz Biz), 2007 palomino mare, pictured as a yearling. She has a white patch on one shoulder that she was born with; it is not due to an injury. Her only other white marking is a small star. Photo courtesy of Margie Burgess.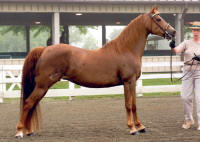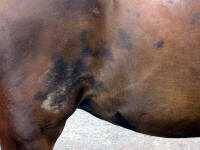 BLYTHEWOOD POLLY VERMONT (Blythewood Vermont Legend x Callie-Ann), 1999 chestnut sabino mare owned by Kathy Newcomb, Blythewood Morgans. Polly has many dark spots scattered over her body. These are called Bend Or spots after a famous racehorse who had them. Sometimes they are called "grease spots". Several of the spots have run together to create a bigger one, as seen on her buttock and her flank (see close up picture). Roaned hairs have loosely outlined the flank spot. The genetic control of Bend Or spots is not known. They are more common on chestnuts and palominos than on black-based colors. First photo by Bob Moseder; second photo by Kathy Newcomb.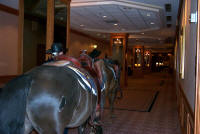 BROKEN ARROW WARRIOR (Aragorn Adam x Duchess of Dickie), 1983 chestnut gelding. Warrior was owned for most of his life by the Denver Police Department and retired in 2008 at age 25. He is seen here being led down a hall in a fancy hotel, rehearsing the path for a ballroom dinner party, which included riding on a freight elevator! Note the interesting spot on Warrior's rump, encircled by white roaned hairs. He has no other white markings. Warrior is owned by G. Scott Riggs and the photo is courtesy of Sara Amerman.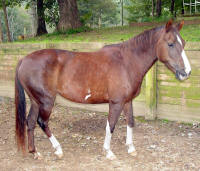 KSG REVELATION (Sirocco x Satin-Jewel), 1996 chestnut mare owned by Anne Coe. This mare has been tested for frame and was negative.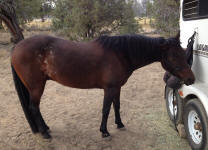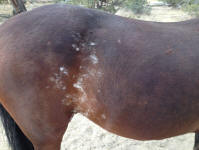 "
RIP CURL (JMF White Knight x Ensbrook Unforgettable) 2007 bay gelding owned by Jennifer Doan-Scott. In the spring of 2014 when this gelding was 7, these white markings appeared in his right flank area. There was never any injury or fungus infection in the area. This gelding is double Beamington-bred, and odd white markings have been known to appear in other Morgans with this breeding. Another possible cause might be some sort of nutritional deficiency. Morgan Colors reader Kathlen Baker emailed the following: "we once had a 4 year old chestnut stallion who suddenly developed white spots all over his body. My husband was told by a lady at a horse show that this was sometimes caused by a mineral deficiency. We began feeding him a combination of seaweed meal, sulphur and lime and within 6 weeks all spots had disappeared and he has never had them since."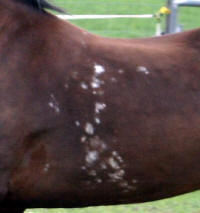 JBH FASHION'S FOLLY (Carlyle Command x Marin Jennifer), 1988 bay mare owned by Marian Grimes. One spot on the mare's side appeared when the mare was about 15. At age 20, the entire area suddenly became covered with spots. The attending vet in this case speculated this was a reaction to some sort of insect bite(s). Her only other white marking is a small star.


Home | Base Colors | Palomino | Buckskin | Smoky Black | Homozygous Creams | Silver | Dun | Gray | Splash | Sabino and W20
Rabicano and Roan | Frame | Flaxen | Oddities | Historic Colorful Morgans | Links