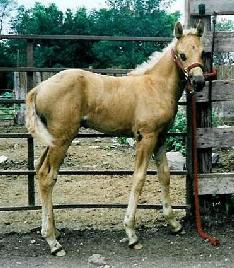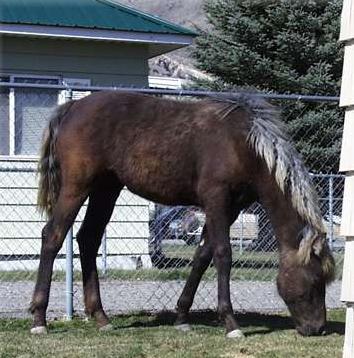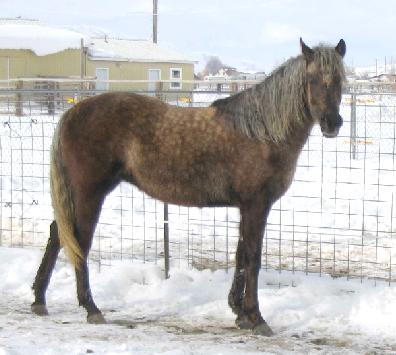 Single cream dilutes can be very dark in shade; not all are the stereotypical "golden" color. First picture: 2003 dark palomino filly Metigoshe Mariah (Beda Acres Gold Mercedes, palomino X Metigoshe Marquessa, liver chestnut), owned by Darrell Charlton. Born looking like a typical palomino foal, Mariah darkened as a yearling (second picture) to a silver dapple lookalike, complete with dark roots in her mane and no lighter hair at all on her lower legs. In the third picture, a coming two year old Mariah is more obviously dark palomino.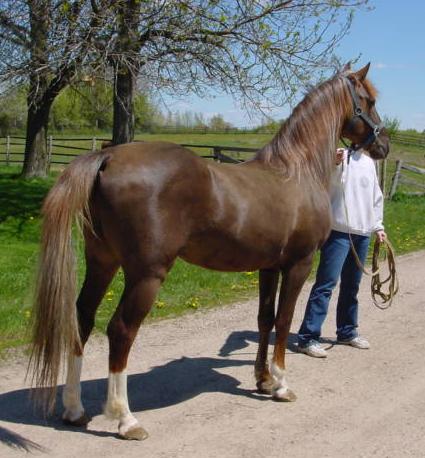 Northerly Llwellyn (Northerly Intrigue X Northerly Gifted), a palomino gelding owned by Colleen McNichol. As a young horse, "Lew" was more typically golden (above left); with age he has darkened so much as to look like a flaxen chestnut (right). "Lew" has a palomino daughter from a chestnut mare, proving that he is, indeed, palomino.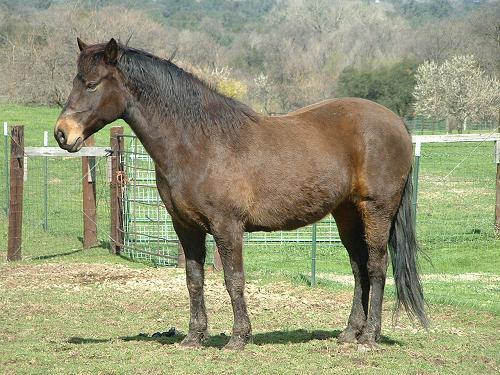 Springtown Laurel (Richfield Octavius, brown buckskin X Rose Hill Pistachio), 1993 buckskin mare owned by Lisa Horning of NVS Morgans. Laurel looks like a non-dilute dark bay or brown. The cream gene test available at UC Davis proved she has both the cream and agouti genes, which means she is a dark bay or brown-based buckskin.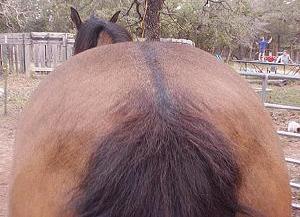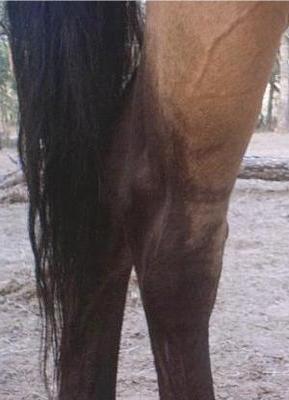 Above, both photos: dun or un-dun? What do you think? This is Saint Claire (Black Panther, smoky black X Miss Tee Hawk), a 1985 buckskin (registered as bay) mare. "Kat" has a dorsal (countershading) stripe that, at times, can be somewhat dark and prominent. However, it can fade quite a bit with sun exposure, and true dun dorsals are not prone to sun fading. Kat also does not have true dun leg barring. For two weeks in the spring of 2003, the few leg bars seen here were visible. Within two weeks of their appearance, they were gone. True leg bars, as with all dun markings, will be present and visible regardless of seasonal coat changes. They do not "come and go". Katís dun-like markings are due to the cream gene plus the sooty modifier, not the dun gene. Pictures courtesy of Nancy Castle.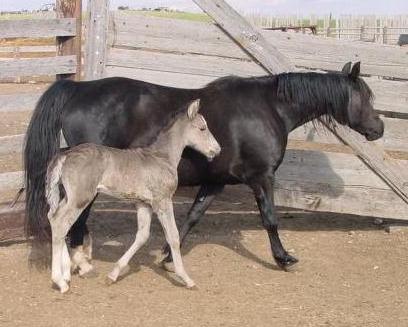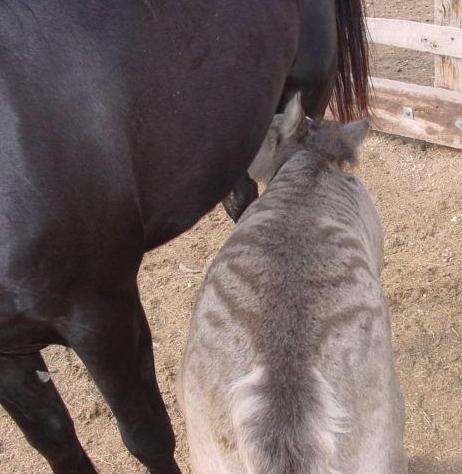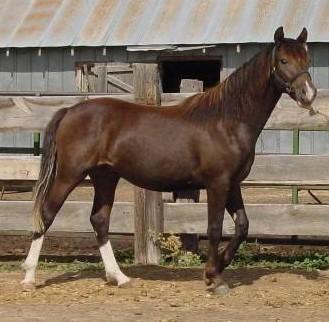 All three photos above: Triple S Silver Smoke (Triple S Chinook, palomino X Whippoorwill Victoria, black), 2002 smoky black colt. DNA tested as "Ee" (heterozygous black) plus Cr (cream) by UC Davis. Owned by Nathan Painter. In the first two pictures he is pictured as a suckling; in the third as a yearling. No, thatís not a grulla foal! Silver Smoke does not have a dun parent, so he cannot be a grulla. You can see how smoky blacks were mistakenly registered as chestnuts, duns or other colors over the years! Silver Smoke had foal countershading dorsal and stripes down his sides when born. It is actually very common for foals of all colors to have certain markings that mimic dun markings, but Silver Smokeís are more extensive than most. These markings can often look somewhat like the dorsals, wither stripes and leg barring of a true dun. This is natureís camouflage for a young foal. Generally these markings will completely disappear with the shedding of the foal coat. Some may linger on into adulthood as countershading markings, but keep in mind that they are not the same thing as true dun markings which are due to the dun dilution gene. For more information on the dun gene in Morgans, visit Dun Central Station.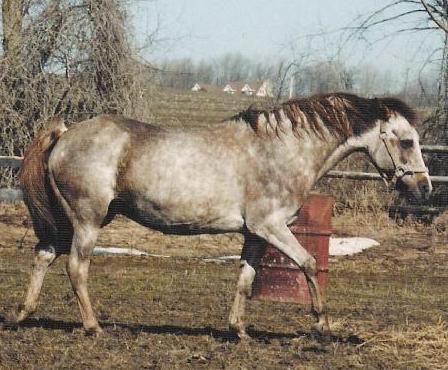 Sleepy's Select Rose (Middland Lipp A Tink X Sleepy's Fuzzy Fanny), 1983 chestnut sabino roan mare owned by Tammy Kastner."Rosey" is so roaned as to look nearly gray, but she does not have a gray parent so it is not possible for her to be gray. This much roaning without flashy white markings or body spots is very unusual for a sabino. "Roany sabino" is thought to run in certain family lines.