Descendants of the Foxton Morgans, and the Amanda's Suzie Q line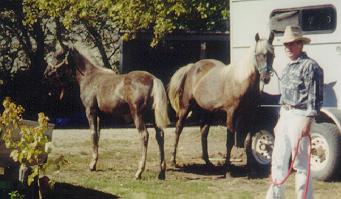 Left is Whiting's Smoky Debonair(Foxton Debonaire X Foxton Fawn), 2000 silver gelding, owned by Carroll Whiting of Blue Rapids KS, and on the right is his full sister Whitings Fancy Star, f. 1999, now owned by Joyce Urroz. Photo in 2000, courtesy of Mr. Carroll Whiting.


Here is another picture of Whiting's Fancy Star (Foxton Debonair X Foxton Fawn), 1999 silver mare. You can see how much darker she is in her winter coat here. She was a coming two year old in this picture, and you can see a yearling picture of her in her summer coat on the Rainbow Morgan Horse web page. Photo courtesy of her owner Joyce Urroz.


Whiting's Bright Star (Foxton Blackjack X Foxton Fawn), 1998 silver dapple mare owned by Karlene Gose. This mare's mane and tail have darkened considerably as she has aged; as a weanling she looked much like her half sister Fancy pictured above. Age-darkened silvers generally do retain a bit of silver hair in the forelock, on the ends of the mane, and tailhead; otherwise, they may look very much like a dark chestnut or sun faded black. Photo courtesy of Shery Jesperson.



Another silver dapple offspring of Foxton Fawn is S Bar B Blacksaddle Chester, sired by H-Saracen (smoky black). Chester, foaled in 1994, sired just two foals before he was gelded- a bay mare and the silver stallion pictured next.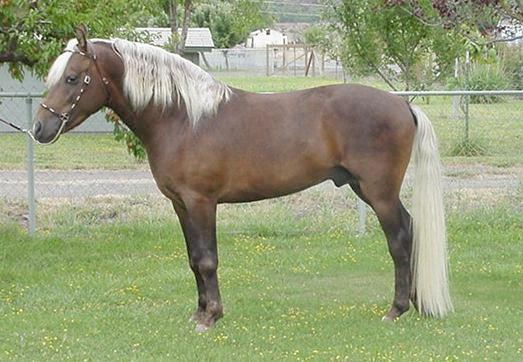 Zeulner's Sunka Wakan (S Bar B Blacksaddle Chester X Zeulner's Marvelous Melody), 1998 bay silver stallion, owned by Zeulner's Morgans in Oregon and standing at stud there. Sunka was the first officially confirmed silver dapple Morgan via the Red Factor test. He has also produced a bay foal when bred to a chestnut mare, which is another way to prove (as chestnut to chestnut always produces chestnut) that he is not chestnut, but a bay/black based silver.


RGR Silver Eagle (raf) (Zeulner's Sunka Wakan X Granaway Bonne Amie), 2004 dark bay/brown silver dapple colt owned by Susanna Schaenzer.

Amanda's Suzie Q, chestnut carrying silver mare- a "stealth" silver!


Amanda's Suzie Q (Devan King X Taha Holly Q), 1994 chestnut mare owned by Tamara Dirrim of Hamilton, Indiana. Suzie has the silver dapple gene, but it does not show on her because being chestnut, she has no black hair to dilute. When bred to the bay Arabian stallion Blu Teal, Suzie has produced several silver dapple Morab offspring, proving that she carries the silver gene (Arabs are not known to carry the silver gene and at any rate silver cannot hide on a black base color horse). In 2002 Suzie foaled a possibly black silver colt by the black Morgan stallion, Samuel North. In 2004 she produced a dark bay/brown silver colt by the black Morgan stallion Carbide Smoke. To see more of Suzie and her silver dapple offspring, visit Tamars Ventures Arabians and Morabs. The silver dapple gene is coming through Suzie's dam Taha Holly Q (chestnut) by Crimson Jack (chestnut) who is out of Donnie's Lass (chestnut) and follows back in tail female through several more generations of chestnuts to the mare Dan's Baby, by Dan. Pictured with Suzie is her 1998 bay silver Morab filly by Blu Teal, Tamar's Silk N Satin.


Crimson Jack (Cloverlane Andrew X Donnie's Lass), 1975 chestnut stallion. Unfortunately this chestnut carrying silver stallion had only seven offspring, and the only one to breed on was the dam of Amanda's Suzie Q (the mare pictured above), Taha Holly Q. There may still be more silver dapple or chestnut carrying silver offspring of this mare out there!

---
AN IMPORTANT NOTE ABOUT ASD AND THE SILVER DAPPLE GENE

ASD is Anterior Segment Dysgenesis, a malformation in the anterior segment of the horse's eye. It is theorized that ASD sometimes "piggybacks" along when the gene for silver is inherited. In its heterozygous form, ASD is of no consequence to the horse (this is the "cysts only" form, or Aa); it is not progressive, and does not affect vision. Homozygous ASD horses may have their vision affected (this is generally termed "ASD affected", or AA). Horses can be examined by a certified equine opthamologist to determine if the problem exists. Unfortunately, ASD is not always detected on an eye exam. Responsible breeders simply do not breed silvers to other silvers to avoid getting homozygous silvers- which may be ASD affected. Most of the research on ASD has been done in Rocky Mountain horses, a breed which is predominately silver (they call it "chocolate"). It is hoped that a test for ASD will eventually be available. For more information, we recommend reading:

Michigan State University's ASD webpage

At the bottom of that webpage is a link to the Silver Dapple Locus site and also the ASD Forum site. These pages are worthwhile reading as well.

As the silver gene in Morgans stands now, we should not have ASD affected (AA) horses, because there are no known silvers which have two silver parents. It behooves the colorful Morgan breeding community to be aware of this disorder, and to breed silvers responsibly so as not to allow ASD to become a problem in our breed.
---
I would like to thank the following people who have helped me in my research on silver Morgans and/or for their assistance with procuring photos for this page: Nancy Harris, Carroll Whiting, Lillian Smith, Eve Burleson, Colleen McNichol, Linnea Sidi, Don Britton, Ginny Muse, Bobbie Zeulner, Joyce Urroz, Shery Jesperson, Nancy Caisse, Suzanne Edmonds, Nancy Castle, Sherry Siebenaler, Lisa Holec, Susan Motter, Melanie Pewe, Linda Erber, Lesli Kathman, Joanne Curtis, Margaret Gardiner, Sharon Harper, Wendell Williams, and Susan L. Ewart, DVM, PhD, Dipl. ACVIM. Without all you wonderful folks offering your information and photos for this project, it would not have become a reality! Check back here often for updates and new photos which will be added as they become available!
---
Back to the Silver Dapple Morgans Project home page.